This is my family:
We used to be just 6 - and now we're 10 and growing.
My dad there in the middle...he's...well. He's my hero. He is the guy I said I wanted to marry when I grew up. He's the guy that still lets me sit in his lap and pretend that I'm not taller than he is. He is the guy that has worked his butt of for years and years and year to provide the amazing childhood I had. He has raised four daughters into extremely self sufficient, independent women that drive him (lovingly) crazy. He is 50 (shhhhhh don't tell him I told you) and personal trains three guys and can beat the crap out of them all at the same time. He has held me millions of times as I cried about something insanely inane, made me laugh when I've been mad, and loves each of the women in his life with a ferocious protection - even though we're giving him white hairs :)
My momma is next to him. She's the beauty that you'd never know has 4 grown daughters. She is the woman that gave up everything for me and my sisters. She homeschooled each of us, which effectively shut off any personal life she could have had, because she spent all day with us instead. She cheered me on in whatever "I'm going to be a ______ when I grow up" I was having that week. She always told me that I could be ANYTHING I wanted to be. She spent hours upon hours with us, teaching us about being Godly women, and amazing friends, and close sisters. I have the strangest memories of my mom that stick out to me - one of them being when I fell off my bike when I was little and ripped my knee open. I vividly remember my mom FLYING out of the house to get to me. I remember her taking care of her mom, when she was living with us for a time. I remember her making dad take all of us girls out for a day so she could make "meals for a month" (we ate lentil soup for years from that day ;) ). My mom has been many many things to me over the years, and I am so proud of her. She is my best friend in so so many ways, and I cherish her with wild abandon.
My parents have been together for 27 years - 28 this October. And they are still MADLY in love with each other. They have been through more things than I will every really know about, but they have a love that has deep roots. They are my example of marriage, and I could not have two better people to model after.
Look at how cute they are!!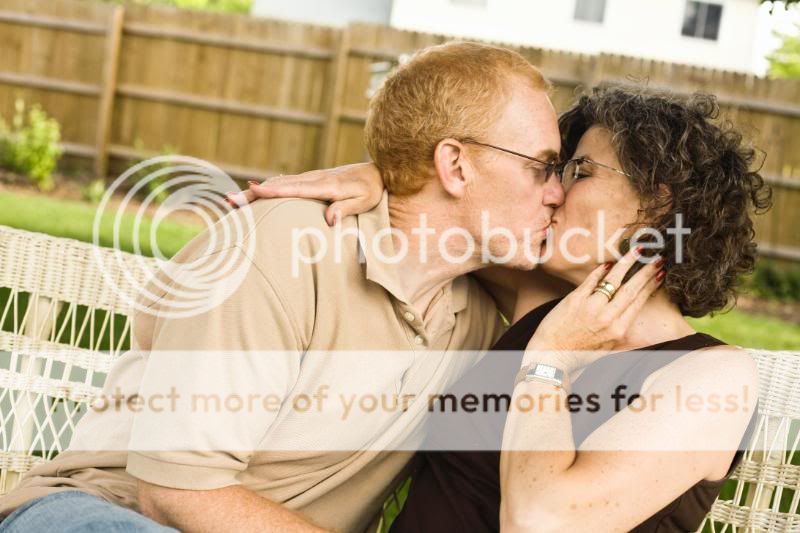 I could go on and on and on about each individual person, but in the interest of time, I'll try to sum it up! The other women you see in this photo are my amazing sisters. I know I've posted about them many times before, but I just love them a lot so you have to read about them again! They are all amazing, and I'm so proud of each of them, in different ways.
This family of 6 has grown and expanded and shifted. My parents have handled having a lot of "grown ups" in their lives with beautiful grace, and the additions to the family (while probably slightly overwhelmed by us still) have been wonderful additions. I get all misty when I think about life 10 years ago, and then today. Everything is so...different. Not bad different. Just different. But this group of people you see here....these are forever people. No matter where marriages, school, interests...anything takes us, we are 10.
And it's kinda fun to have more boys to torture :)