I was sitting on my couch Friday night, watching the thunderstorms outside my window, trees bending in the wind, thinking to myself
"Amber's wedding is tomorrow, and it's outside. Noooo.....!!!!!"
But! My fabulous mentor,
Sarah Barlow
, always told me to pray over a wedding day as it approaches - to pray over the weather and equipment and such. So I did! Amber....I take credit for putting in a good word and bringing you your GORGEOUS, dry, sunny day :)
Mick and Amber are an incredibly unique couple. Amber is a dancer, and has the collected personality to go with it. She's very even-keel, and contained. Mick is a people person, and looooves to talk and interact! I had so much fun with them at their engagement shoot, and have been waiting for this wedding for MONTHS! I knew it was going to be an off the charts event combining not only their two personalities into the day, but the corresponding sides of friends and family!
Amber's dad is a theater guy through and through. He directed all of the theater productions at church when I was growing up, and he loves to do life with a splash...so much so that when I got to the church he was in the kitchen with the Annie soundtrack on, singing along! I tell you this to explain what the church looked like, and how it was decked out. It was a wedding stage, and it was DONE UP! They had a beautiful silk gown with buttons on a dress form, old cameras, miscellaneous wedding attire creatively hung, and the best part? Well that was the huge frame that Amber and Mick stood in during the ceremony! It was a beautifully put together event and so much fun to photograph.
Amber was a GORGEOUS bride, in a dress that was all lace and buttons. This photo just begged for an old movie feel....
Mick cleans up well himself....whoowee!
I can't resist a bride that wears TWO pairs of shoes....AND two dresses!!
I absolutely adore this photo. I was taking the guys outside for some photos, and they were just goofing off together, and Mick absolutely cracks me up here!!
The largest wedding party ever.....
Amber really wanted to take photos at this pine forest, and hello! it's beautiful!
One more of gorgeousness....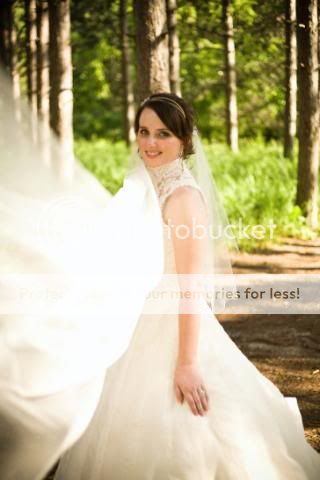 Mick and Amber, I had such a great time with you both, and I hope you have a wonderful time in Costa Rica!!