She's one of four daughters. He's one of three sons. No cross-gender siblings on either side. The brothers vowed to never marry and live together forever in a mans-ion (the man-ned out version of the usually elegant mansion!). And the sisters know every word of
"Sisters"
from
"White Christmas"
. Add in a set of loving parents on either side - and you've got Tim and Meghan's wedding day.
The morning started with a salon full of sisters and best friends calling out to each other from behind hair station mirrors, peaking between to check the latest status of hair design and mass amounts of giggling. The mother of the bride looked on with a smile, while the father of the bride ducked in and out of the salon, making the necessary Starbucks runs and umbrella drop off's.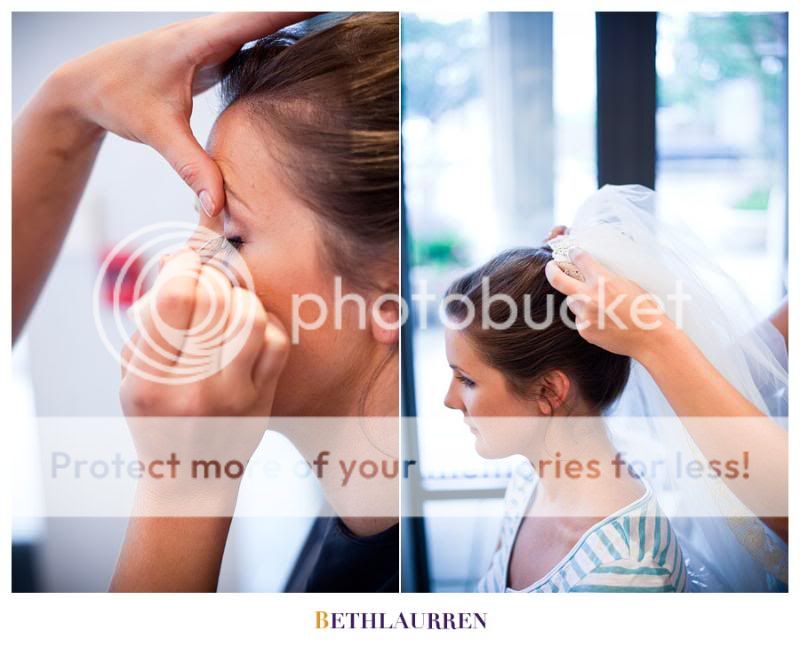 Blue shoes make me happy :)
It was all lace. And it was breathtaking.
I couldn't decide if I liked it better in silhouette or not - so you get to see both!
Meghan is a crazy beautiful blend of outgoing vivaciousness, and a still soul. There is a peace that runs deep through the heart of this woman. It was a fascinating contrast to capture in her.
First look! I was praying that Tim didn't fall down the stairs in a dead faint at this moment :) He was so nervous, and just wanted to see his bride.
With a choked whisper he wrapped her in his arms and said
"You look so beautiful."
We'll come back to more of Tim and Meghan. But first - let's skip ahead to their ceremony. Meghan's uncle married them, creating just one extra angle of this family filled, love surrounded day. Before the ceremony, some of Meghan's closest friends gathered to pray over her and her marriage.
Meghan grew up here in this church. I'm sure that over the years there have been many big moments in her life that occurred in that building. It was perfectly fitting to commit her life to this man in that place.
Kiss...aaaannd....married!
Bridal party photos were so much fun - smiles were easy to come by, and the friendship in the group was all-encompassing.
You.make.me.happy. :) :) :)
Bear with me on the multiple veil shots here - I originally picked upwards of 10 for the blog post, and had to find a way to whittle it down! Favorite veil shots ever!
Please always find a moment in every day to look at each other like this; like your next breath comes because of this person; like you may never look away from the love in front of you.
Tim? Love this woman. Hold her fiercely, love her passionately, protect her vigilantly. The love you have for her is evident to even a stranger on the street - it's such a beautiful, precious thing to see.
Meghan, you are a beautiful woman. Through and through. You laugh easily, live intently, and bubble with life. You are a blessing to everyone that comes to know you - and I'm so very happy that I get to be so lucky!
Now Meghan? Honor this man. Look up to him, love him, support him. He lights up when he looks at you. He is so in love with you.
Here is it Meghan. Finally your post "Tim and Meghan :: Married!" has come! Your wedding day was beautiful - I think the clouds broke just for you! Thank you to both of you and your families for welcoming me and my crew into your lives for the day. You have beautiful families to surround you, love you and make new memories with you. I hope you're sitting on a beach, Long Island iced tea in hand....still smiling.
Love to you both!